Saturday, September 26th, 2009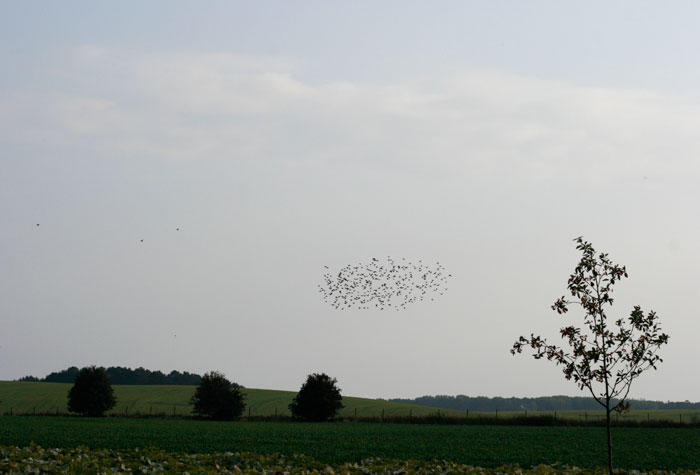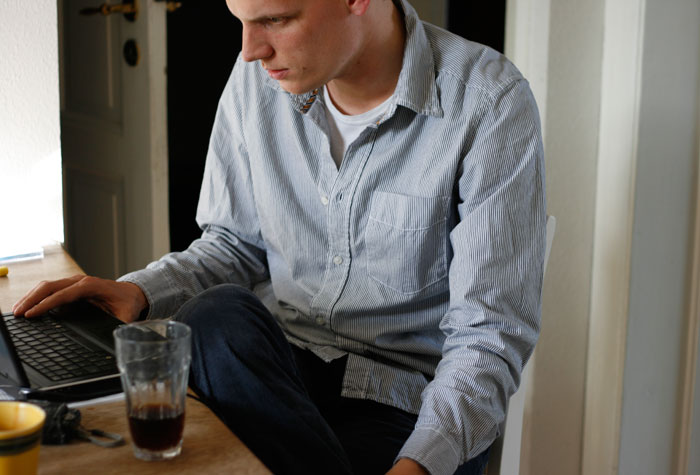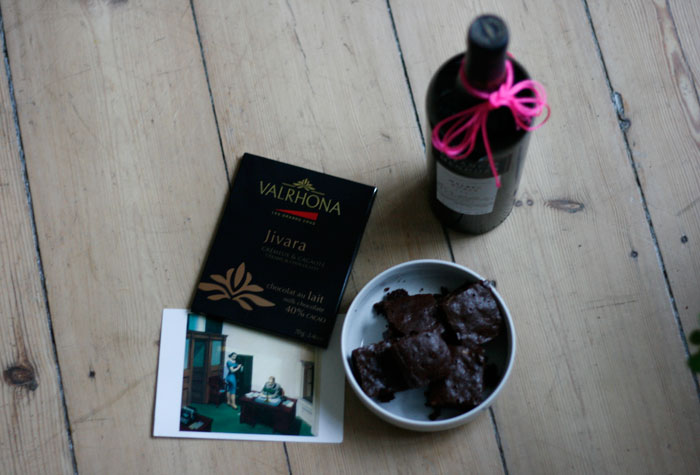 hello fellow weekenders! (probably not a proper word) so far it has been a great weekend seeing old friends and meeting new people! these photos have no connection what so ever other than this blog post. the first one taken on samsø - of a small group of starlings doing a bit of formation flying. so fascinating to watch them when they fly in large numbers don't you think? the second one of NE working on the computer and the last one shows a great surprise treat we recieved from our sweet neighbours because we had been looking after our four-legged neighbour rufus. thanks mette and D! delicious brownies, chocolate and red wine!
——————————
replies
- lotte: ja, jeg er også glad for den, bruger den som indkøbsnet…ikke så glamourøst ; )
- ali: hello ali, great to hear from you again : ) and thanks for your kind words! happy you like the photos
- ida: tak, og også tak for info om print!
- sekimachihato: i did the same, only with these uneatable red berries and i think you are right, that was your artistic side showing through : )
- epe, nathalie, kristina, anna and kristina k: thank you girls!
- rudegirls: hehe, fin lille sang ; )
- lorenza: yeah i really like the yashica as well, only sometimes i'm a bit frustrated with all the light leaks (about every second one of the photos in the film)but i guess that goes with the territory : )
- ne: hæ, det tænkte jeg nok
- kristi: thanks kristi, i only noticed the sky in the windows after i had the film developed
- alice: hi alice. i'm mostly using fujifilm superia. and mostly 200 iso..found a lot of roles at a very low cost in a supermarket. this one is a kodak film though. it was expired but apparently not "enough" as the colors turned out more or less normal. in general i'm content with the superia film, there's a flickr group dedicated to it, so you can check it out there if you like.
- jenna: hello jenna! happy to have you back. i must head over to your blog to see what you have been up to! : )
- lorenza: yeah autumn light is somethng special!
- nathalie: nothing beats an empty and peaceful beach! after writing the note about photographing people from the back i realised that i like this type of pictures because of the slightly mysterious and dreamlike atmosphere you get…can't really describe it properly. but they certainly become more "open" photos when you can't see the person's face
- ida: helt med på hvad du mener. selv om det er efterår har billederne også noget dansk sommer over sig.
- paula: you are right, it was a very calm and relaxing holiday on samsø. i'm looking forward to see your august/september photos!
- alexandria: yeah, it's such a great idea with that train hostel! very inventive! glad you liked the beach and film photos : )
- young: tak! jeg kan varmt anbefale samsø, meget smuk ø! efter at jeg havde skrevet noten om de evigt rygvendte personer i mine billeder, er jeg også kommet til den konklusion - at det skæve og ufuldstændige portrætbillede ofte er mere interessant fordi man ikke ser det hele, men selv skal lægge noget i billedet.